Speakers have a passion and expertise for their topic area along with the need to help and serve people.
My program Seminars @Sea cruise programs offers tools and support for you to, work, have fun and increase your profits all at one time. Frankly, if you do it right, you can secure your income for the entire year from this one Seminars@Sea programs cruise event.
Seminars@ Seas program gives you the business opportunity and marketing to increase your seminar's success beyond seminar registration sales. I have a proven system to monetize your Seminars@Sea event, beyond the small fraction of the income your seminar will generate.
But for that to happen you have to have more than one revenue stream. And although most seminar leaders think of ticket sales to monetize their event, that is only a small fraction of the income your workshop should generate.
Book your Seminars@Sea cruise program with us and we'll share the – Back Of The Room Sales – Top 5 Things To Sell At your Seminars@Sea cruise program to generate even more income!
Whats your need? We can put you on a Seminars@Sea Cruise today.
ORGANIZATIONS
Education Entities – Schools
Continuing Ed Units
Development Groups
Agencies Providing Multiple Services & Programs
Societies
Fraternities
Book Clubs
Cultural Diverse Groups
Wine Tastings
Craft Beer Tastings
Hobby Groups
TOPICS
Sail Into Business Success
Entrepreneurs@Sea
Authors@Sea
Writers@Sea
Golf@Sea
Photography@Sea
Learn How to Start Your Business
Grow Your Niche
Be a Success as You Sail Into Your Future
Social Media & Email Marketing Training
Creating a Social Media Presence for Your Business
Using Email Marketing to Grow Your Business
BUSINESS MEETINGS
Owners and Directors of Groups and/or CentersAgencies
Conference Planners
Board Members
Teachers and Assistant Teachers
Parents & Grandparents
Consultants
Contractors
Authors
Writers
Speakers
** Make it a fundraiser cruise – most cruises will match funds for any fundraiser.
AS FEATURED ON CNN, SEMINARS @ SEA IS GREAT FOR MANY REASONS!
Why would you want to speak at the Hilton in Chicago when you could speak on a luxury cruise to exotic destinations all over the world with the potential of increasing your business network and net-worth and generating more money in your pocket! Cruise ships offers the all-inclusive meals, entertainment, presentation equipment and meeting space. Cruising builds in the social and excursion time needed to get a clear head, generate fresh thinking and share new experiences with colleagues. You're not in a (dark) hotel ballroom … thinking, "Here we go again."  Speakers have access to amenities on cruise ships you might not otherwise be able to afford for a retreat– nightly entertainment, happy hours, floral arrangements, audio/visual equipment, and personally chosen meals rather than pre-planned banquet platters.
CNN quotes-"Imagine sitting at a conference round-table and being able to look out on the turquoise sea for inspiration. At lunch, you steal away to sunbathe on deck. That night, after a featured speaker presentation, you'll watch a cabaret. Tomorrow, you'll spend a few hours on Grand Cayman."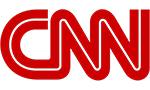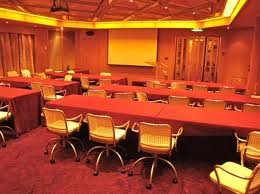 Comfortable, contemporary set-up
Captive audience ups participation
Coffee breaks included, no charge
MSC Poesia Meeting Room
Large and versatile facilities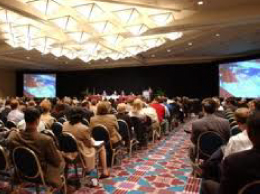 Air walls allow large/small sessions
Many groups easily accommodated
Celebrity Constellation Conference Room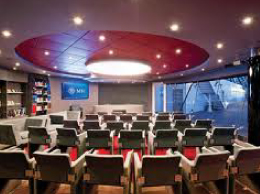 Combine business and pleasure
Plasma screen TV's on many ships
Small business groups fit right in
NCL Pearl Vienna Board Room
Complimentary Use of Audio Visual Equipment
Save thousands on a meeting at sea!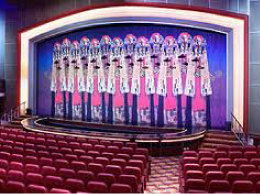 New environments for new ideas
Spacious interiors relax you
Some ships also have a cinema
Carnival Freedom Show Lounge