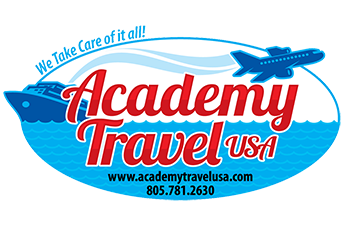 MEET THE OWNER! DIANNE TUTTLE, CTC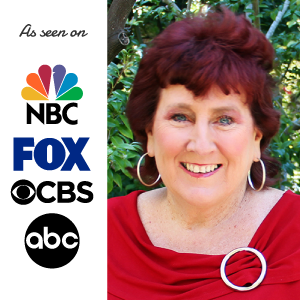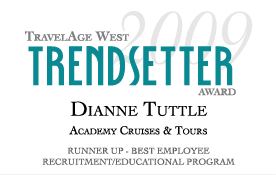 Owner and Qualifier of Academy Travel and Academy Travel School, which I founded in 1989. I have over 30 years' experience in the travel industry and hold a Federal Bond with the Airlines Reporting Corporation (ARC). I work closely with all cruise lines and tour operators and make recommendations for vacation packages to my clients. I raised $200,000 in private capital to start my first travel agency. I am the administrator of Academy Travel School, founded in 1990 to teach people how to become professional travel agents and start their own home-based travel agency.
I have an Associated Arts degree from Foothill College and a CTC (Certified Travel Consultants Degree) From Wellesley Massachusetts. I also consult for Lerson Germon and Gold Sachs financial advisors for wall street. I talk to investors on wall street pertaining to all matters relating to the travel industry.
I have been in the travel business since 1979! WOW! That is a long time! I got hired right out of college with American Express and stayed there for 7 years. I have an AA degree from Foothill College and in 1984 received my CTC degree. Now with over 35 years of experience in the Travel Industry, I look forward to helping you plan your next dream vacation!
Dianne Tuttle
… Since 1989
"After 35 years of experience giving expert advice to travelers, I know how to work within your budget. When you purchase online, you're on your own! With Dianne Tuttle, CTC, of Academy Travel you're not alone! I can assist you with problems and still beat online prices; saving you time and money!
Academy Travel offers you the best value and service! We are a full service agency that has been in business since 1989. We can handle every aspect of your trip from air tickets, car rentals, hotel, cruise, tours and most important travel insurance! We're a proud member of the Travel-savers Consortium, which makes it possible for us to offer you the best prices available.
I am a Certified Travel Counselor (CTC) What is a (CTC)?
You can trust a Certified Travel Counselor (CTC) to listen to your needs and meet them when planning your next leisure or business trip.
CTC's have the experience and expertise to save you valuable time and effort. With all of the information available today, do you really have time to research what the best value is for you and your family?
Can you trust the important details of your next trip to the Internet? You can trust a CTC with those details. CTC's posses at least five years of travel industry work experience and have completed a rigorous two level certification program that also requires the fulfillment of annual continuing education credits. Trust knowledge. Trust experience.
Feel free to contact us with any questions at 805-781-2630.
We're here to help you!
We love referrals!
Refer me any client and get a FREE service fee on your next airline ticket!
Sincerely,
– Dianne Tuttle, CTC